how to successfully hire a freelancer on Upwork
i've been using Upwork for a while now. i was actually an oDesk user beforehand and remember when they were acquired. so it's fair to say that i've been around for a while. that leads to good insight on what goes well, and more importantly, what doesn't.
Upwork has become synonymous with hiring freelancers and finding talent from around the world. if you are looking to hire someone for a project, there's no better way to go about finding top talent.
i'm not here to convince you to use Upwork. rather, i want to share with you how i've managed to find great talent and how i've successfully hired freelancers on Upwork and how you can too.
disclaimer: i've had both good and bad experiences.
my personal experience stems primarily from hiring graphic designers, content writers and developers. i currently run a fully remote digital marketing agency. we often need to quickly hire talented writers for the various niches that we service. when we have a job come up, we find all of our writers on Upwork. because you're reading, i'm assuming you're in a similar position, whether it's an ongoing job or for a part time project. that's great, and i think i have experienced a lot on the site that could help you in your efforts. whether you're hiring a freelancer on Upwork or any other freelance platform, the principles i share in this post are going to be beneficial to you.
there's no doubt that the platform is huge, and in a lot of ways has become the top pool for freelance workers.
there are a lot of really important benefits to hiring freelancers on Upwork.
the talent. it's remarkable how much talent lives on this site. there are so many options at various experience levels and price points to hire the best fit for your job. whatever budget or project you are looking to hire for, there is someone for you in this network.
protection for the client. Upwork offers the client a lot of protection. if the job wasn't finished the way you expected, or it wasn't finished at all, you are financially protected, and not forced to lose funds for work not up to your standard. freelancers know this is how Upwork operates, so it sort of lights a fire underneath them to go above and beyond in order to make you (the client) happy. it's also important to note payment protection is offered with fixed-price jobs through the use of escrow.
payment terms. like i said earlier, there are freelancers from around the world on Upwork. there's plenty of talent at various price points. another positive about the way Upwork operates is that you are technically paying Upwork, who then pays the freelancer. you are not directly paying the freelancer. this makes it so much easier from a business expense standpoint (disclaimer: i'm not an accountant and this is not accounting advice. you should seek professional accounting advice before acting on any of my writing).
fees are low. for the client, the fee is only 2.75% per payment made (of course that is in addition to the price you agreed on for the work.).
update 6/18/19
Upwork has introduced client plans, which unlock various features at their respective tiers. for example, in order to unlock the advanced freelance search filters, you must be a "plus" member (at $49.99/mo.).
Upwork charges the freelancer a fee of:
20% for the first $500 billed with the client
10% for lifetime billings with the client between $500.01 and $10,000
5% for lifetime billings with the client that exceed $10,000
when a freelancer bills $500 or $10,000 with a client, the freelancer automatically earns a lower fee going forward with that client. the freelancer will therefore see an increase in take-home earnings.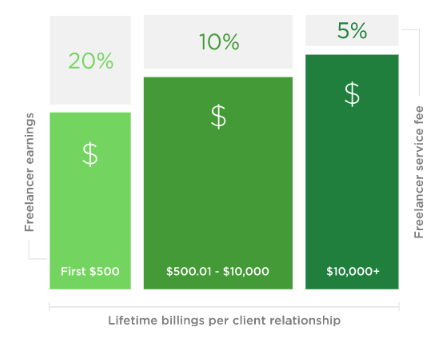 let's get into the specifics of finding good talent.
finding talent
hello, HR manager.
so you're looking for the best talent for your job and at a fair cost. how do you do that?
typically, before posting my job, i start my search by sorting through freelancers with the skillset i'm looking for. Upwork does a great job of allowing freelancers to list their primary and secondary skills, so you can find the perfect candidate from top to bottom. i make a list of 5-12 profiles and save them as "my freelancers". the idea here is to invite those on my list to the job posting once it's been made. organization helps the hiring process go smoothly, and Upwork gives you the tools to do just that. this is something i definitely recommend you try. it'll help you to identify freelancers you like in a proactive way.
it may be a bit overwhelming at first because there are so many freelancers on Upwork, but don't let that be a reason to stop you. they provide some very helpful filters you can utilize right from the start in order to narrow down your search. remember, we're looking for the best candidates for this particular job. the goal is to find a talented freelancer who is hungry to work. that means someone who is qualified, but also passionate about what they do.
take a look at the available advanced filtering for freelancers that you can do: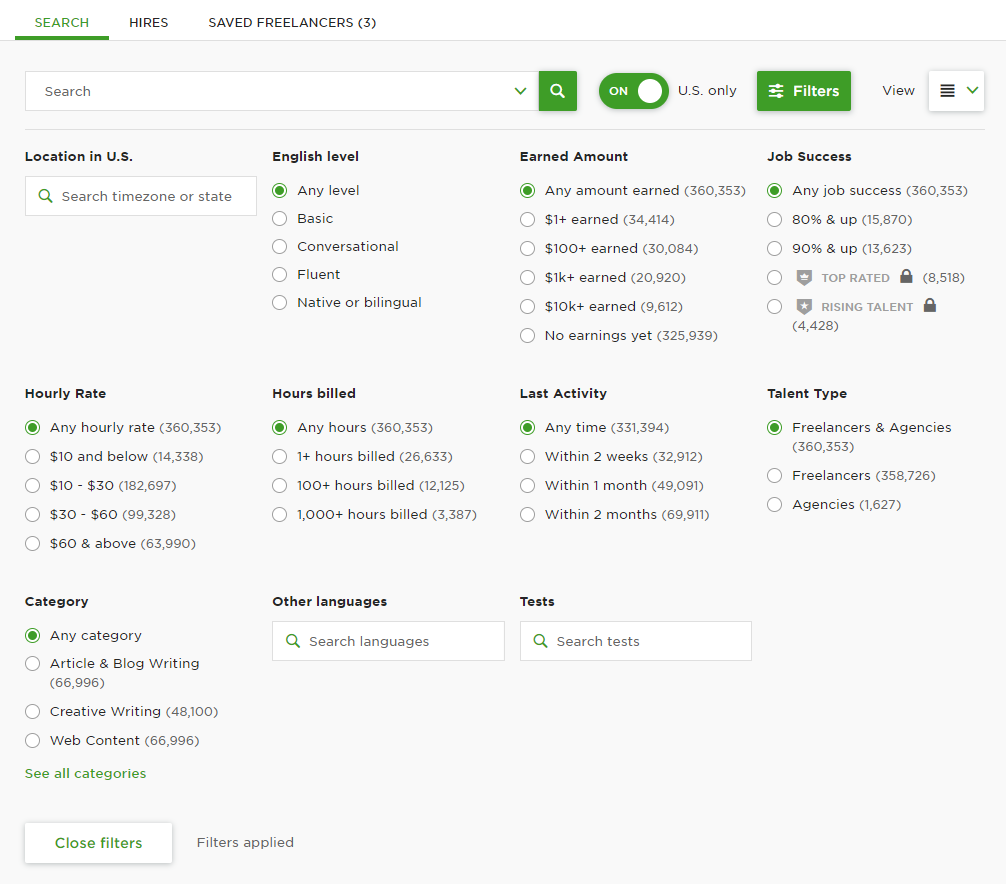 posting a job
this part is fairly quick if you have all the job details easily accessible.
it's important that you're as descriptive as possible in the job post. you want to try and answer any questions the freelancer may have before they even ask it. this saves you time from interviewing clients who are nowhere near qualified or prepared for the job you're hiring for. not only that, but it is a huge time saver to outline the job as best you can because it'll avoid going back and forth with multiple freelancers asking the same questions over and over again.
if you have inspirational content, design prototypes or anything that'll aid in the words you've written for the job then you must attach them to the job posting. it gives the freelancer a much clearer picture of what you need. the more you give a competent client, the more you will get back, so being prepared on your end is just as important as the client's qualifications.
i've had plenty of instances where i could tell that the freelancer didn't even take the time to read my entire job posting. in an effort to weed those freelancers out from the start, i include a line in the middle of my job posting that says something like:
"when responding to this job posting, please refer to me as Apple. if you don't refer to me as Apple, i won't entertain your offer."
whenever someone doesn't refer to me by the piece of fruit that i ask them to, i automatically archive their proposal. if they can't read the full description and follow the rules before the job even starts, it's a good indicator that they can't follow the rules for the job itself. It might not make them qualified, but with so many great freelancers on the site, it is worth it to find someone who has a good focus from the get go.
take a look at an example job posting below: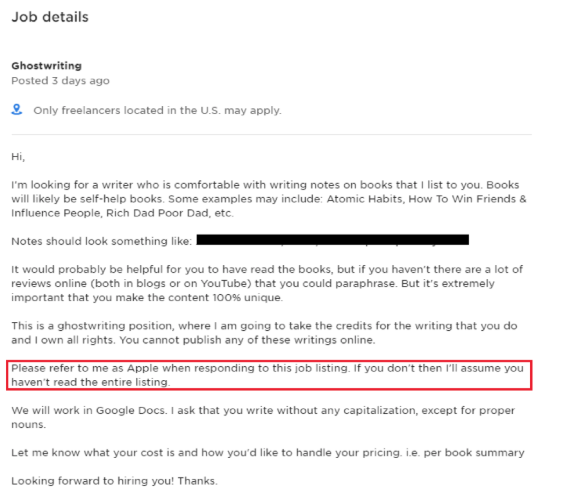 pricing: hourly or fixed
when posting a job you can set the payment terms of the project. your choices are hourly or fixed pricing.
within the hourly rate section you have the ability to dictate an hourly rate at which you're willing to pay. your payments are processed on a weekly basis. you even have time to review their logged work hours to make sure they are not asking for more payment than they are due based on their time spent working.
within the fixed-pricing section, you can set a fixed rate for a job when the deliverables are specific (and limited). you can set milestones for fixed-price jobs. milestones are a great way to divide your fixed-price job into a series of deliverables based on your specific needs. they're a great way to break a contract into manageable checkpoints. you pay upon approval of each individual milestone. fixed-pricing (& the use of milestones) also encourages communication throughout the entire project, which is crucial to a successful job.
the fixed-price route is always my preference because it allows me to set a comfortable ceiling for what i'm willing to pay for a specific task to get finished. if the scope of work changes and i need something else done, then i can create more milestones to accommodate. all in all, fixed-pricing allows for budgets to be made in advance, plus the funds aren't released until the work has been completed and i'm satisfied.
once you've come up with the description and terms, you're ready to publish your job posting.
don't forget to invite the freelancers that you saved.
negotiations begin
by this point, your job posting is live on Upwork, and the freelancers that you invited may have denied or approved your invitation. at this point, you're likely eager to hire someone, so keep an eye out for your top few candidates out of your invited list. if they deny your invitation, no big deal. if they approve it, then they'll have to make a proposal.
there's no rush. only commit to a freelancer who you feel comfortable with after speaking to. from my experience, a lot of freelancers are super quick to respond when they're just candidates. once you hire them, their response time drops off. i'm not speaking for every freelancer, but i'm just mentioning this point because you should be aware of it. when someone is a candidate, they're going to do whatever they have to do in order to make you like them.
the hiring process can take days or weeks (if the job is big enough). however, Upwork brings an incredible pool of talent at your service. take your time searching for the right candidate. at the end of the day, i'm positive you won't regret it. meanwhile, don't forget to share your thoughts on hiring on Upwork with me. have you ever used Upwork to hire a freelancer?