Coffee with Nick V 013: LaGuardia, Bezos, Basecamp, eBay and "time"
as a reminder, I'm @nickvitucci on Twitter👋 and you're receiving this because you subscribed to this newsletter at coffeewithnickv.com or from an article on nickvitucci.com.
---
happy Wednesday!
new subscribers, welcome to our corner of the internet. pause and go grab a cup of coffee. i'll wait here.
back? cool… on we go.
as weeks pass by, the subscriber-base grows (slowly, but surely). with that, the pressure to write well gets higher and higher. my silly typo's because of a lack of proofreading are getting on the nerves of some and of course, the lack of sentence case bothers others.
too bad, both will continue!
😉
oh and if you're at all interested, last week's newsletter had a 48.6% open rate.
moving on…
---
interesting things i consumed
LaGuardia Airport's New Terminal B
we spoke about the "modern airport" in a recent edition of Coffee with Nick V, so it only seemed appropriate that i continue that thread today with mention of the unveiling of LaGuardia Airport's Terminal B.
click the image above for a video from the Port Authority of NY/NJ
the unveiling was on Saturday, June 13th and is the next stage of LaGuardia's $8 billion transformation. the entire project encompasses change in aesthetic and efficiencies for the airport as a whole. some specifics include: flow of traveler traffic, waiting-area space, user-friendly check-in system, simple and effective signage and an underlying focus of seamless flow through the airport.
the airport is said to contain a host of touchless technology and UV cleaning technology on escalator handrails. these seem to be some interesting aspects in a world of Covid-19.
i'm curious to see how this plays out once air travel is back to numbers it was once at and specifically, if this redesigns lives up to the huge bet the Port Authority has made. then again, it would be hard to get much worse than the original LaGuardia.
---
Bezos to testify in House antitrust probe
Amazon CEO Jeff Bezos is willing to testify before the House to answer questions about the company's competitive practices. i imagine this will be somewhat similar to what we saw 2 years ago with Mark Zuckerberg.
this probe has honed in on the big ones; Amazon, Google, Facebook and Apple. the underlying questioning has been to discover if these companies have been unfairly "squelching" their competitors.
---
DHH and Basecamp
the folks at Basecamp are some of the best marketers. we've seen it with Basecamp, now we're seeing it with their new product, Hey.
they seem to shape the broader narrative for their projects to ride the wave of.
it's long bothered developers that Apple unfairly shakes them down for 15-30% of revenue to be listed in the App Store. not many have had the guts to directly fight Apple on it (probably in fear of getting squashed).
well, DHH/Basecamp have taken this aggravation and turned it into the story to pay attention to. and of course, they've launched their new product on the back of it.
---
in this article, Morgan Housel of Collaborative Fund does a really great job at outlining his "permanent assumptions" as they relate to business and investing.
i really enjoyed this section: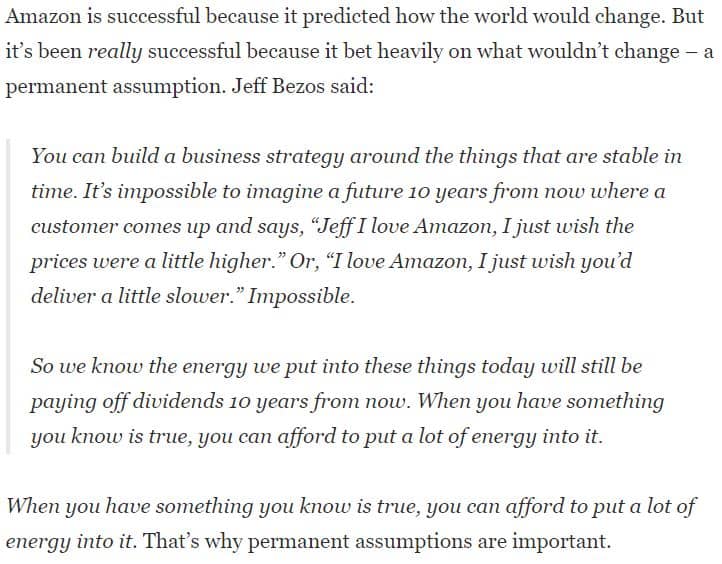 ---
this is a very bizarre story about a group of senior eBay security employees who have been accused of stalking and harassing the editor and publisher of a newsletter that eBay didn't like (the publication was critical of eBay).
they sent very disturbing items to the victims' home, including a fetal pig, a book on surviving the loss of a spouse and other weird things.
the fact that higher-ups at eBay were heavily involved in this sort of leads us to believe this isn't the first time it's happened.
---
interesting things i created
time
i wrote this article on the concept of time. i don't claim to be an expert on the usage of time, quite the opposite actually, but i did some thinking on the subject and this article is a summary of those thoughts.
let me know what you think!
btw, i drew the illustration of Virgil too.
---
that's all for this week.
until next time,
Nick V
ps if you like what you've read, please share with your friends. they can sign up for the list here. also, i always welcome recommendations of any books, podcasts, movies, etc. let me know!
Unsubscribe | Update your profile | PO 7642, Wantagh, New York 11793