Coffee with Nick V 010: Trump, Bezos, rocket ships & more

happy Wednesday!
i put together a landing page for this newsletter. it's really nothing special, but i like the aesthetic and it does the trick when people ask how they can join.
i also added OAuth flow to the daily gluten free recipe newsletter so now users are able to join the list without typing a thing, by "signing in" with Google. working on Twitter OAuth as well, but i first have to get approved for through their developer page.
---
some things i found interesting over the last week that you may also find interesting:
Texas Instruments calculator change
do you remember the days of using these graphing calculators (probably the TI-83 or TI-84) in middle school and high school? i remember downloading games and playing them in homeroom, between classes and even during class.
well now if users download the latest firmware then it'll be more difficult to run custom programs. Texas Instruments' explained that this is being done to "prioritize learning and minimize any security risks". AKA it's being done to reduce cheating.
seems sort of ridiculous considering "in the real world", we pull out our calculators and run scripts or functions in Excel/Sheets all the time.
plus the graphing calculators give students a platform to hack away on. i'm sure these updates will in fact stop the casual cheater/hacker, but the determined will figure out workarounds.
Trump & Twitter
Twitter added a fact-checking notice next to a tweet by President Donald Trump after he claimed that mail-in voting was inherently fraudulent. it'll be interesting to see how many more of these notices we'll see in coming days and weeks and the sort of precedent that action may set.
this came after Twitter received a letter written by Timothy Klausutis. Klausutis pleaded that Twitter take President Trump's tweets down about his wife's death.
Trump quickly responded to the notice and compared it to electoral interference and stated that Twitter is stifling free speech.
for those interested in seeing what the Twitter notice looks like, see here: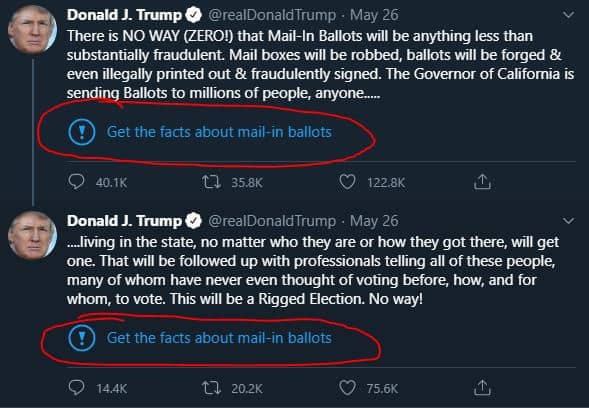 Bezos, the infamous micro-manager
this is a fascinating take by computer programmer, Steve Yegge, on both Google and Amazon. Steve doesn't hold back much about his feelings towards Bezos. when summarizing a mandate that Bezos issued to the teams at Amazon, Steve repeatedly jokes about the fact that Bezos doesn't care about the health and well-being of anyone.
this article is from 9 years ago, but don't let that deter you from reading it.
Elon and SpaceX
SpaceX is targeting a 4:33pm EDT launch for Falcon 9, Crew Dragon. it'll have two NASA astronauts aboard and this will mark the first time ever that a private company will send astronauts into orbit.
they will be in orbit within 12 minutes of takeoff and then from there it'll be 19 hours of flight time until they reach the International Space Station.
since 2011 NASA has been paying Russia $80 million per astronaut for them to send our astronauts into space. this has been years in the making because in 2014 a deal was struck between NASA, SpaceX and Boeing to build America's new crew space transportation system. at the time NASA granted SpaceX $3.1 billion and Boeing $4.8 billion to build the capabilities.
if you're reading this before 4:33pm today (5/27) then be sure to watch the live stream!
---
that's all for this week.
until next time,
Nick V
ps if you like what you've read, please share with your friends. they can sign up for the list here. also, i always welcome recommendations of any books, podcasts, movies, etc. let me know!
Unsubscribe | Update your profile | PO 7642, Wantagh, New York 11793